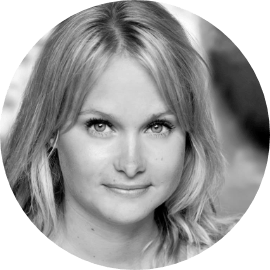 Samantha Blackwell
Acting Teacher and Principal of Artisan
Samatha started drama classes at the young age of 6 in her hometown of Bournemouth. She went onto gain all of her LAMDA acting exams to grade 8. At 17 Samantha auditioned and successfully gained a place with the National Youth Theatre, which confirmed her passion for acting and continued on to audition for drama schools In London. Samantha gained a place and was awarded a full scholarship at the accredited Arts Educational School of Acting, where she trained for three years and gained her B.A Hons in Acting. Samantha is a certified and experienced LAMDA tutor with an extremely high pass rate in all LAMDA grades from grade 1-8.
Since graduating Samantha has worked professionally both on screen and off, work includes episodes on Coronation Street, CBBC, commercials, and internet series as well as devised work. Samantha's professional experience within the industry and training allows her to teach in a unique way, focussing on the 'think, feel, show' technique and methods used in professional full time theatre schools.
Samantha is proud to coach not just those pursuing their talent but also to those with enthusiasm and a real love for the arts. Samantha's passion and love for acting is a key skill in developing the confidence of each individual child. Samantha has always believed in coaching children of all ages within the arts, enabling students to pursue their dreams in a friendly, fun and professional way.